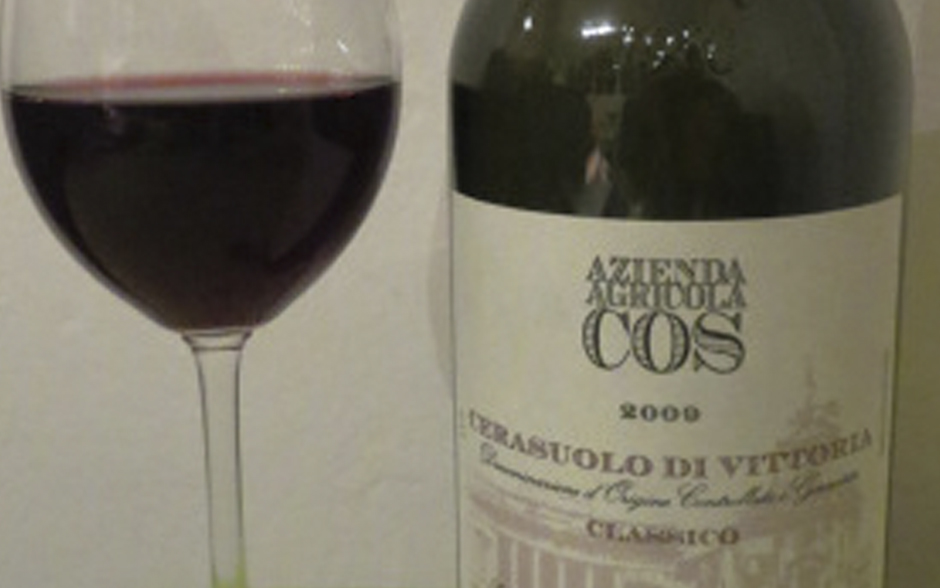 A strangely interesting wine … the 2009 Azienda Agricola COS Cerasuolo di Vittoria Classico DOCG, Sicily, Italy
Woh … to your casual wine drinker that name is both long and confusing. What the does it mean? I'm going to cover the edumacational stuff first so some of you more sophisticated and knowledgeable (than I) fellow wine wankers may wish to skip the next paragraph or two. Note that in all my posts I try to apply links to highlighted key words and phrases that will direct you to further information if you're keen.
Cerasuolo di Vittoria is Sicily's only DOCG and it relates to red wines known for their vibrant colour and perfume that come from Sicily's south-east coast. Let's call it "the style" of the wine based on "the rules" of the DOCG. And being a Classico means that it is a theoretically superior wine within the DOCG that follows traditional methods. Azienda Agricola COS are the producers of the wine and have an interesting history themselves. They also produce a number of other interesting wines including a 50% Inzolia, 50% Grecanico (hmmm).
The Cerasuolo di Vittoria is a blend of two grapes native to Sicily, being 60% Nero d'Avola and 40% Frappato. Nero d'Avola is arguably Sicily's most important grape. It is known to produce full-bodied wines in a similar style to Australian Shiraz. Frappato is another Sicilian grape used to make light red wines and only makes up about 1% of all vines on the island. Together they are typically blended to form Cerasuolo di Vittoria which is usually a medium-body wine that obtains the floral and perfumed notes from the Frappato and a relatively robust structure and flavour from the Nero d'Avola.
I recently won this wine at Auction for $30, a decent score considering that it is quite a rare wine here originally selling for $46, although you can pick up the 2010 for about $47 online. I had read reviews that this was an interesting and somewhat "different" wine so when it came up I had to get some.
As soon as I opened this bottle I got an intense whiff of Black Forrest cake. The whole set of aromas on the nose were strange but also inviting. I kept on sniffing, it definitely smelt different and I was attracted by the light perfume. I even got a bit of musk in there with those cherry and chocolate smells. On the downside, it did remind me a bit of red medicine and that was probably the cherries.
On the taste, it was just so strange! The palate was much more raspberry than cherry, and then there was an over-encompassing taste of blackcurrant. I asked my wife what she thought and she said that it didn't taste like a normal red wine and reminded her of Ribena, a common soft drink based on blackcurrant (although the wine is neither fizzy nor sweet). The interesting fruit was followed by what I could only describe as mushrooms growing out of a mix of wood, tobacco and earth but the wine wasn't tainted. And all the while there's the strange but intriguing scent on the nose.
Leggi l'intero articolo su The Wine Wankers