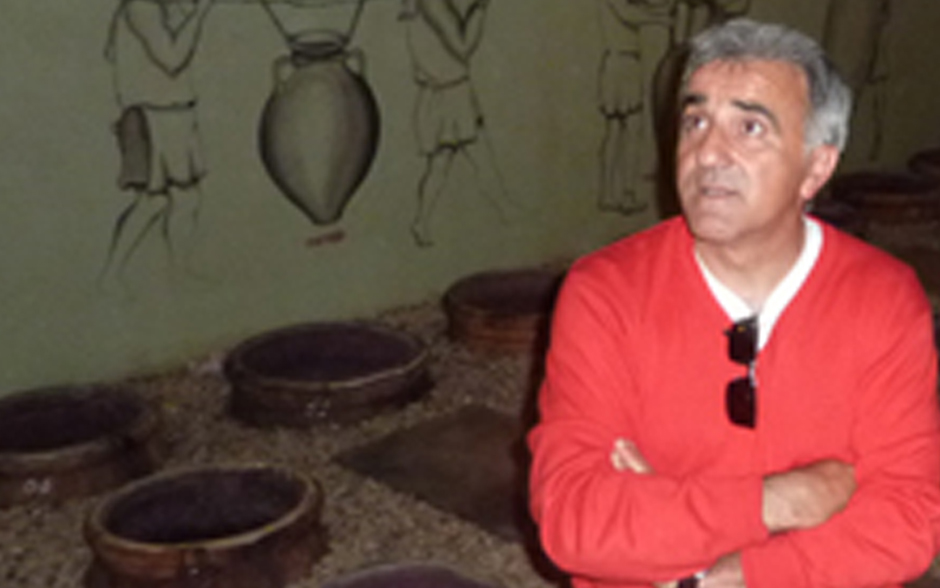 COS: Not your traditional winery
Thirty years ago three friends from the Vittoria area of southeastern Sicily were preparing to start their university education. The friends, Giambattista "Titta" Cilia, Giusto Occhipinti and Cirino Strano, were all from wine making families. When Titta's father saw that the three had nothing to do until school started in several months, he gave them several tons of Nero d'Avola grapes and with his help, the three made 1400 bottles of very alcoholic wine. They chose the name COS for their winery name, taking the first letters of each last name. The wine was sold in Palermo and thus began the odyssey resulting today in one of the leading wineries in all of Sicily. In 1985 Cirino chose medicine over winemaking, selling his share to his sister, Pina, who stayed ten years until she left to marry the owner of Ristorante Sakaleo in nearby Scoglitti. For more details, I highly recommend you read Robert Camuto's excellent book on Sicilian wine, Palmento: A Sicilian Wine Odyssey (At Table)
Guisto Occhipinti.
Guisto Occhipinti with the terracotta amphora. PHOTO: Terry Duarte.
Today, COS (www.cosvittoria.it) is run by Guisto and Titta, both graduate architects. The company has expanded significantly and now produces approximately 160,000 bottles per year using biodynamic viticulture methods. The facility includes a beautiful inn, Locanda COS, on the grounds of the vineyard/winery. My wife and I stayed at the inn on our visit.
My introduction to COS came from both the aforementioned book by Robert Camuto and a bottle of COS Pithos Rosso that one of our sons had brought back from a visit to Sicily. The wine was excellent and thus during a recent trip to Sicily, we visited the winery. Our host for the tour was owner Guisto Occhipinti who proved to be a passionate and knowledgeable guide and a most hospitable host. The barrel tasting in COS's spacious new earthquake-resistant winery (remember, owners are both architects) was informative and enlightening.
COS is not your traditional winery. As Guisto explained, they have gone away from using smaller French barriques to employing terracotta amphora from Spain, and large Slovenian oak casks. The change was made to reduce the oak contact time and hence stronger oak flavor in the wine, allowing more of the true characteristics of the wine to emerge. Another interesting fact is that COS uses only the natural yeasts for fermentation of its wines.
Leggi l'intero articolo su wineloverspage.com